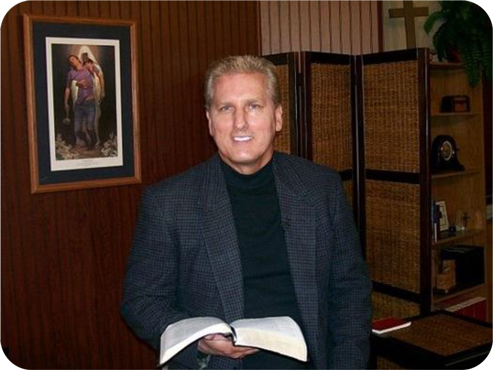 Duke on the set of his weekly Christian Television Network program, Conquering Your Giants

Duke DuVall is the author of the popular book How To Conquer Giants and is now in his seventh season of the weekly TV show that book inspired, Conquering Your Giants, originating from The Christian Television Network WTJR-TV studio in Quincy, IL.

As a professional corporate speaker, motivator and business consultant, Duke DuVall has inspired leaders in ministry, business, government, athletics and education for more than thirty years. As an evangelist, ordained into the ministry in 1987, he has proclaimed the Gospel of Jesus Christ around the world. The powerful wisdom principles of How To Conquer Giants have challenged and inspired international audiences throughout the United States, Australia, Japan, Russia, Mexico, Germany, Canada, Guatemala, Switzerland and New Zealand numbering more than a million participants and including AT&T, Lockheed Aircraft, The United States Military Academy at West Point and the Maui Hawaii International Mayor's Prayer Breakfast.

As Executive Director of St. Louis based Light Of The World Ministries Duke also records a daily global outreach, "The Moment of Inspiration", a 7-minute audio devotional, now in it's eighteenth year, containing a new Biblically based message 365 days a year which can be heard 24 hours a day at his website www.DukeDuVall.com and by phone toll free at 1-800-939-5689.